How to Prevent Crepey Skin
Famous for hitting the mid-40s and older crowd, the harsh reality is that crepey skin can happen to us even earlier – in our 20s and 30s. Yikes! No matter the age, we can safely assume nobody wants thin and wrinkled crepey skin superficially aging us.
In happier news, this is where we at Crepe Erase come into play. There are many simple tips and tricks to prevent crepey skin. So sit back, relax and take notes, because we're here to share with you our top ways to prevent crepey skin.
Skin and Healthcare Tips for Crepey Skin Prevention
Get ready to smile. Crepey skin doesn't have to be permanent. The right anti-aging products, nutrition and lifestyle changes can drastically improve that unwanted, not-invited-to-the-party, crepey skin.
Sun Protection
It goes without saying, sun protection is critical when it comes to healthy skin and preventing premature aging.
Choosing a moisturizer with a minimum of 30 SPF is a great first step… head to toe. When you know you're going to be out in the sun, cover up and wear a wide-brimmed hat.
Also, consider a skincare system infused with natural ingredients and super hydrators to reduce signs of aging and UV damage.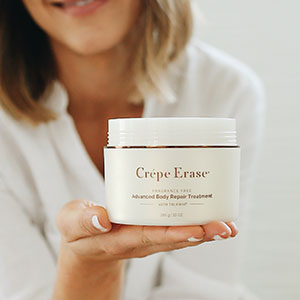 Hydration
We've heard it a million times: Hydration is essential to healthy skin. On the other hand, dehydration can supercharge the appearance of fine lines and wrinkles. An easy fix: Drink a whole lot of water every day. Or, say "so long" to elasticity and suppleness, and "hey there" to visible fine lines and wrinkles.
Skincare Routine
While healthy skin is a "from the inside-out" kind of thing, defying aging skin with emulsifying skin treatments will help to uncover smoother, softer and radiant-looking skin.

Our Advanced Body Repair Treatment features our exclusive TruFirm® Complex and 9 Super Hydrators™ , leaving skin visibly smoother and firmer.
When it comes to treating crepey skin on our bodies, Crepe Erase offers clinically tested treatments, like our Toning and Tightening Body Serum, that deliver instant and long term transformative results, visibly increasing firmness and elasticity.

The eyes have it. Our under-eye area is prone to crepey skin, due to its already thin skin tissue. Tips to help:

Gentle exfoliation – and we mean gentle – don't go grabbing the sugar scrub in your shower. Gently exfoliate with an eye cream that offers a low concentration of retinol or hydroxy acids. Fun fact: Eye area exfoliation also boosts collagen production.
Serums with peptides or glycerin squalene are a good defense in preventing crepey skin. Bonus: They will also help to hydrate areas that have already developed crepey skin.
Eye creams are specifically formulated for this reason. Our Crepe Erase featherlight Flaw-Fix™ Eye Cream was created for the sensitive eye area, targeting this delicate skin, reducing puffiness, fine lines and wrinkles.

For optimal results, make your skincare routine a ritual. This can also be your relaxation time. Lavender candles, your favorite music on in the background, the door closed and the world around you is on mute. This is a great before-bed routine. For those on-the-go mornings, skip the ambiance – but not the skincare.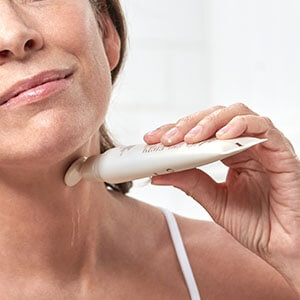 Minimal Makeup
Another step in keeping your skin hydrated is a minimalist approach when it comes to makeup. This is a fantastic way to let your skin breathe, keep your pores unclogged and let your natural beauty shine.
Nutrition
When it comes to healthy skin from the inside out, nutrition plays a key role. Next time you're at the grocery store, stock up on foods rich in omega-3 fatty acids. These include flax and hemp seeds, dark chocolate, soybeans, pomegranates, spinach, nuts, avocado and olive oil (which also happens to be a key ingredient in our skincare products). Avoid processed sugar and alcohol.
Exercise
Ten minutes a day! When it comes to that unwanted crepey skin on our arms, there are exercises we can do to prevent it, and also firm up and tighten areas developing crepey skin. Take a look at five exercises that will tone up that crepey skin in less than 10 minutes a day.
There you have it. With the help of some really great anti-aging skincare, a wholesome and nutritious diet and a few morning exercises, you can prevent crepey skin and bask in that youthful reflection in the mirror.