Essential Facial Care Tips for Mature Skin
As we age, our skin undergoes many changes. While aging is a natural part of life, sometimes it feels like overnight we don't recognize the person looking back in the mirror.
Well, say goodbye to those worry lines, because we're here to share with you that you don't have to live with those unwelcome changes. The right skincare products and routine can improve how your skin feels and looks despite aging. Soon enough, you'll be jumping at the chance to wink at that reflection in your mirror.
Regain Confidence in Your Skin

As our skin matures, we start thinking about how we can visibly smooth and plump up those lines and transform our faces into healthy, youthful-looking complexions that glow.
Let's take a look at essential face care tips to get that glow back on your face. It's important to note that one of the essentials of seeing the best results is to create a daily routine with your skincare.
Gentle Care for Mature Skin Promises Strong Results:
The first thing is to make friends with lukewarm water because, as we age, hot water is not a friend to our skin. Those moisturizing natural oils we want and need on our skin? Hot water strips them raw.
Our favorite first step is to use a facial and neck scrub that gently exfoliates the skin, promoting healthy cell turnover. Our Refining Facial Scrub visibly rejuvenates dry, mature skin, revealing smoother, firmer, more radiant-looking skin.
Once the face is clean and feeling smooth, our next favorite step is to lather our Restorative Facial Treatment all over the face and neck. Specifically designed for the face and infused with TruFirm® Complex, this luxurious treatment helps visibly plump and repair wrinkled, mature skin.
In a hurry? The above two steps are significant for those who really want to keep it simple or who need to wash and go… however, we would be remiss if we didn't mention our 4-in-1 Smoothing Capsules that not only visibly lift and firm the eye area, but they also brighten dark circles and reduce the look of puffiness.
Let's talk bedtime: who knew you could sleep your way to better-looking skin? We did! Our Overnight Facial Plumping Treatment contains TruFirm® Complex to help visibly smooth fine lines and wrinkles.
You can also take your anti-aging routine to the next level with this 5-piece system that hydrates and smooths.
While we love our vitamin D, limit your exposed time in the sun, and try to avoid being in the direct sun during peak times when the sun's rays are at its strongest. When you know you're going to be outside, wear a sunscreen with a minimum 15 SPF.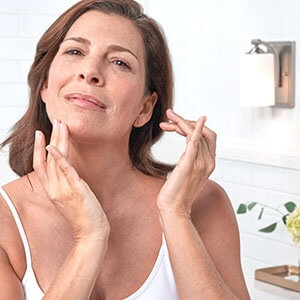 Tips and Tricks To Care for Mature Skin

Outside of face care, there are other things you can do to slow the aging process of your skin: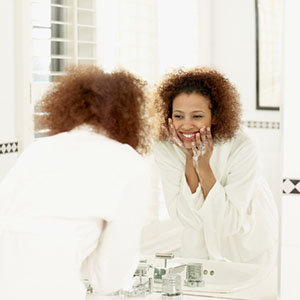 Something to consider is adding a humidifier to your bedroom (and other rooms where you spend most of your time). Consistent heating and/or air conditioning is not a friend to the skin. In fact, it can strip humidity from the air and, essentially, give us dry and itchy skin.
It's important to also wear protective clothing, including a wide-brimmed hat, when spending time outside. Wear polarized sunglasses to ensure they block 99 to 100 percent of the sun's rays.
One final thought… it should go without saying that eating a healthy diet, reducing processed foods and sugars, and drinking 8 daily cups of water are sure-fire ways to keep our maturing skin looking gorgeous for years to come. Easier said than done, right? We get it… but know this, the more you follow these guidelines (all of them), the better your skin will look and feel.